Back Pocket Arsenal: How to Create Perfect Game of Thrones Inspired Braids
Holy Mother Of Dragons. It's April and the final season premiere of Game of Thrones is less than ten days away. Everyone, and yes I mean everyone (8.9 million viewers) have waited over a year and a half for the ending of one of the most watched television shows of all time.
Throughout the seasons, we've swooned over the hairstyles that have helped make their characters into significant style influencers. Consider Daenerys Targaryen, played by actress Emilia Clarke, whose character is also known as Khaleesi. The brightness of her icy platinum blonde hair is unforgettable, the styles she sports have become iconically synonymous with the commanding warrior-queen who wears them.
In the show, Khaleesi's hair changes significantly from season one onward: simply, her hair has meaning. It begins with with her exile in the Free Cities, where she wore her hair messy and with an unfinished look. As the story unfolds, she becomes a strong and courageous leader, fighting for her way to the Iron Throne, and her hairstyles morphing into perfectly kept strands, both plaited and wavy. Behind her braids is a message: a Dothraki tradition symbolizing victory.
To recreate the victorious half up half down hairdo, modified for everyday wear, follow the instructions below from Stephen Jaime, TONI&GUY's Regional Creative Director.
Start off by taking two sections of the hair along the front hairline and create french waterfall braids. You can decide to braid the hair either off the scalp or three strands on the scalp or use a combination of the two.
Leave the waterfall parts out and repeat on the other side.
With the remaining hair, french braid the hair again.
Take the braids towards the crown area securing them into ponytails or braiding all the way through and tying them individually and finally joining them into one ponytail.
To add a more polished look, wrap the hair around the hairstyles and curl the fallout hair for a wavy look.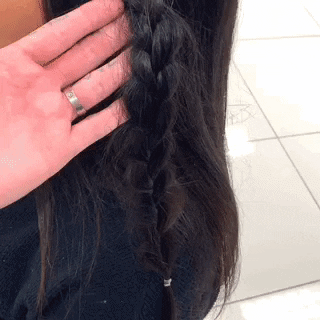 As the final season premiere approaches, we can't wait to see how Khaleesi's hair will transform further as her quest to take over the seven kingdoms comes to an end—and the competition becomes deadly.
We are rooting for you, queen of braids!
Share your favorite beauty looks from the show with us:
@toniguyusa
#toniguyusa
#boblog
Do You Love Creating Different Kinds of Braids?
Cosmetology is a career filled with endless possibilities. From creating a look for an event to creating a color transformation, there is always something new and creative to do! Find out more about how an education in cosmetology could be the perfect next step in your life by checking out our cosmetology program.